CORPORATE HIRE
Increase awareness of your brand
While the concept of the photo booth is not new, we have transformed them in spectacular fashion from grubby boxes on lonely bus station corners, to slick and effective marketing tools for those seeking the ultimate in promotional 'eye-candy'. In an often cluttered marketplace, a Picture This Photo Booth booth oozes personal appeal and engages audiences, particularly in the corporate environment, now more than ever.
What better way to enhance a fun customer experience and have your customers talking about your company long after your event? Your customers will not only take home a snap shot of themselves, but also your company name, phone number and logo. It's like your business card with THEIR photo! They will always be sure to keep the photos, and most importantly, your business nearby.
Now isn't that an experience worth holding on to!!!
For greater visual impact and to increase your brand awareness, why not have our photo booth branded on the exterior to match your business identity?
Branding Skins – Price on Application
Enquire Now
A photo booth is the ideal inclusion for any corporate event where a lasting impression is required long after the doors to your event have closed.
Picture This Photo Booth is the preferred photo booth provider for the TV Week  Logies!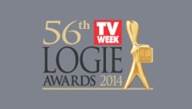 OUR CORPORATE CLIENTS
WE DEAL WITH THE BEST IN THE BUSINESS